FAQs
What if I don't know how to drive an ATV?
Riding instruction and practice are provided prior to all tours. Along the trail the guides will stop to provide additional instruction specific to that terrain. Riders are encouraged to stop driving if they are uncomfortable proceeding over a particular obstacle. The rider should park the quad and the guide will move the quad past the obstacle to a point where the ride can resume safely.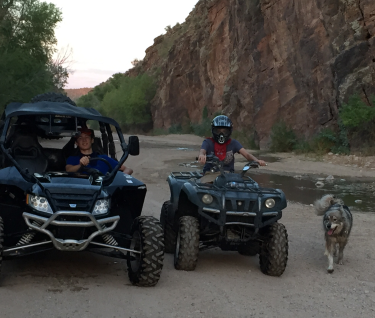 Where do we meet for "practice driving" and to begin the tour?
The tours depart from 36675 South Scenic Loop Dr. in Wickenburg, Az.
What stuff should I bring on the ride?
Sunglasses or goggles are required. Helmets are required for minors. Sun block, baseball cap, bandana and gloves are a good idea.
What is age minimum ?
ATV tours are available for all ages. Rides are modified for inexperienced drivers and unlicensed drivers. Young riders will be taught how to drive safely. They must demonstrate a certain level of skill and most important- willingness to obey their mom, dad and tour guide.
Can I bring my camera?
We encourage you to bring a camera on your Adventure of a Lifetime. Please store your camera in a plastic bag or a fanny pack to keep the elements out.
What do I need to bring for the Gold Rush Adventure?
We provide everything you need to the Gold Rush Adventure. Including pans, screens, buckets and glass vials. Lunch or Snack and water is included.
Please contact Laura 480-296-3773 or Steve 928-684-1200 to book your ATV or Gold Rush Tour.